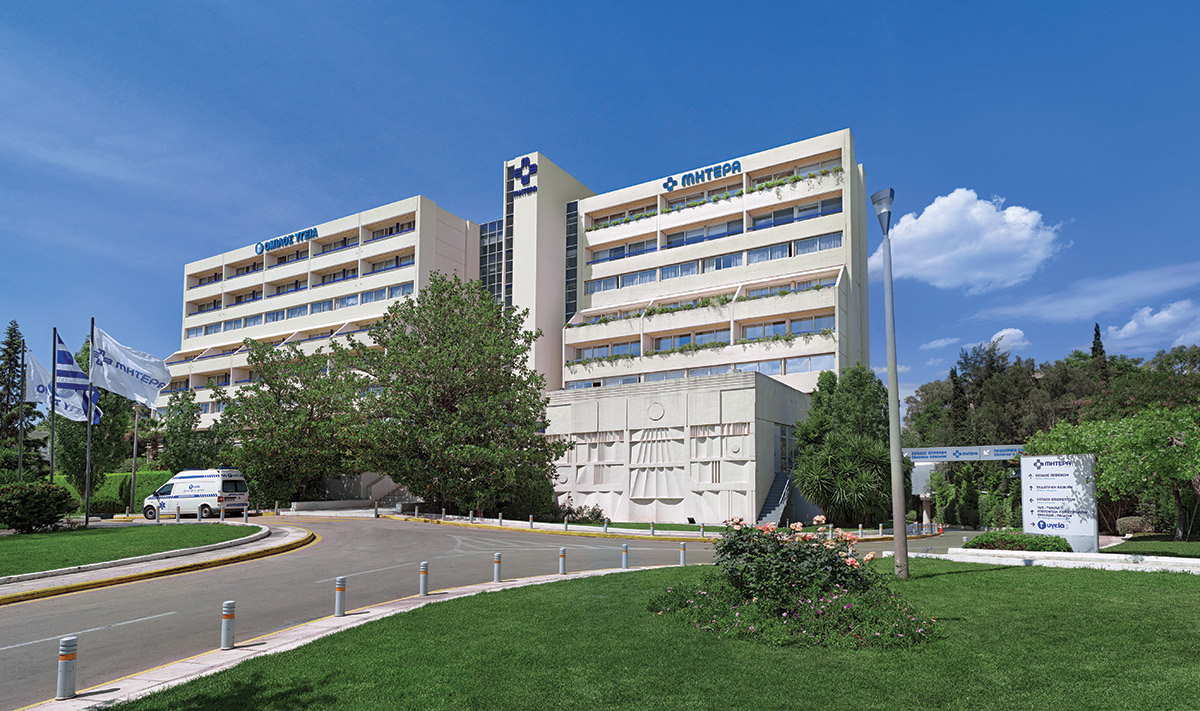 MITERA Hospital
MITERA hospital has been offering comprehensive healthcare services to women, children and families. It runs three hospitals: a General Hospital, a Maternity/Gynecological Hospital and a Children's Hospital. MITERA Children's Hospital is the most comprehensive private children's hospital in Greece.
MITERA is active in the areas of primary and secondary healthcare. It runs fully organized departments, special units, outpatients clinics and diagnostic labs, which offer integrated medical services.  It has more than 1,500 associate physicians who cover all medical specialties.
Patient care and provision of top-level hospital services are of pivotal importance in all MITERA clinics. MITERA's scientific personnel are in constant readiness to treat any medical condition 24/7. To this end, it has access to state-of-the-art operating rooms, six delivery rooms, adult and pediatric ICUs, a NICU, a High Dependency Unit and an Adult Positive Pressure Unit.
Our people, associates and staff are our driving force. Continuous education – through scientific events, seminars and conferences organized by MITERA – contributes towards offering valuable knowledge to physicians and scientific associates.  The scientific staff has access to international medical libraries and bibliography, while scientific councils are held regularly to provide solutions to even the most complicated medical cases encountered within the Hospital. On-call physicians, certified nurses, midwives and pediatric nurses treat any medical emergency 24/7, supported by administrative and technical staff.
At MITERA, we strive so that our patients enjoy a comfortable and pleasant hospital stay.  The General, Maternity/Gynecological and Children's clinics occupy the second to the seventh floors, offering a range of amenities to ensure a comfortable experience.
MITERA prides itself for the quality and variety of its dietary menu, which is planned by clinical dieticians. The food is prepared onsite with select ingredients, while special care is taken to address the dietary needs and preferences of each patient.
The hospitality services offered to patients, accompanying persons and visitors also include shops, a bank, underground parking and a crèche.
The latest technology telecommunication and IT services guarantee the smooth operation of all the administrative and customer service departments of MITERA.
The upgraded 24-hour call center manages all calls and briefs the relevant nursing and administrative departments, so that patients are admitted without delays and accompanying persons are notified immediately.
MITERA includes:
Assisted Reproduction Unit with a state of the art Laboratory.
Pediatric Cardiosurgery & Pediatric Cardiology offering advanced interventional procedures for treating congenital and acquired heart disorders
State of the Art Hemodialysis Unit
Pediatric and Adolescent Oncology Clinic
Breast Center
One Day Treatment Center
Neonatal Intensive Care Unit
Adult Intensive Care unit
Imaging departments equipped with the latest technology (open type MRI 1.0tesla)
Latest generation laparoscopic operating rooms.
Specially designed VIP rooms that offers top-quality hospitalization.
Breast feeding Support Team