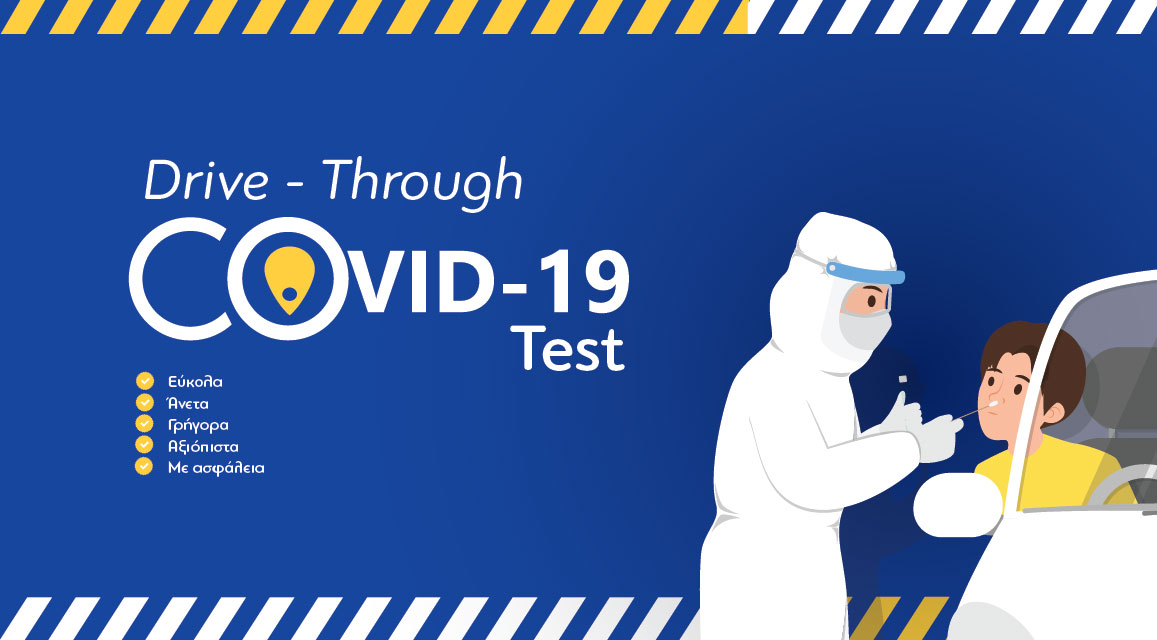 Drive-Through COVID-19 test
Driven by our commitment to offering quality and reliable healthcare services to you and your loved ones, MITERA has established the Drive-Through COVID-19 Test.
It only takes 5 minutes to undergo the COVID-19 test at MITERA, in the fastest, easiest, most convenient and reliable manner, without ever having to leave your car or enter the hospital premises.
The qualified medical and nursing staff at MITERA will conclude the whole process immediately, aiming at ensuring your absolute safety.
For further information or clarification, call on +30 210 686 9135 & +30 210 686 9136.
Drive-Through COVID-19 Test service
Monday to Friday, from 09:00 to 17:00
What is the process?
To register, follow the link and fill out all the mandatory fields:





The COVID-19 test cannot be performed if you do not register.

Come by car through the MITERA entrance (6 Erythrou Stavrou Street, 15123 Marousi).

Follow the signs and drive to the special container office.

Once you reach the office, a MITERA employee will verify your details, without you having to get out of your car. You MUST produce your ID card.

Following all the safety rules, the MITERA medical and nursing staff will collect a buccopharyngeal swab specimen to perform the COVID-19 test.

You can pay by cash or contactlessly through a POS terminal. In all events, you will not be asked to get out of your car.
When will I receive the COVID-19 test results?
The results are available within 48 hours and are sent to you online at the email you declared when registering.
Who can use the service?
The COVID-19 test is available to adults and children.
Can more than one test be performed at a time?
Yes, provided that all the people who wish to use the Drive-Through COVID-19 Test service have registered in advance.
How is the specimen collection for the COVID-19 test performed?
The specimen is collected from the oropharynx using a special swab. It is then packaged, placed in a special box for transportation and sent to the lab. The method used is the real-time polymerase chain reaction (RT-PCR) test.
The Molecular detection of SARS-CoV-2 using RT-PCR is performed at the AlfaLab Molecular Biology & Cytogenetics Center of the Hellenic Healthcare Group.