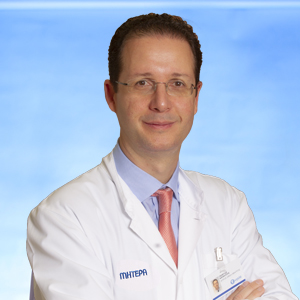 Kalantzis Georgios
Opthalmologist
Education & Academic Qualifications
Assistant Professor in Ophthalmology, Medical School, Leeds University, United Kingdom – since 2012

Fellow of European Board in Ophthalmology Diploma (FEBO) – 2018

Fellow of Royal College of Ophthalmologists Diploma, London (FRCOphth) – 2017

Member of Royal College of Ophthalmologists Diploma, London (MRCOphth) – 2012

Certificate of Completion of Training (CCT) in Ophthalmology – 2009
Education
Oculoplastics & Adnexal Fellow: Fellowship in Oculoplastics, Lacrimal and Orbital Surgery – Moorfields Eye Hospital, London, UK (2011-2012)

Oculoplastics, Lacrimal & Orbital Fellow: Fellowship in Eyelid, Lacrimal and Orbital pathology and surgery – St. James University Hospital, Leeds, UK (2009-2010)

Resident in Ophthalmology – Ophthalmology University Hospital "G. Gennimatas", Athens, Greece (2005-2009)

Resident in Ophthalmology – "Bristol Eye Hospital", Bristol, UK (2003-2004)
Board Member
Royal College of Ophthalmologists, London (RCOphth)

European Society of Plastic and Reconstructive Surgery (ESOPRS)

British Oculoplastic Surgery Society (BOPSS)

American Academy of Ophthalmology (AAO)

Greek Ophthalmological Society

Greek Society of Plastic and Reconstructive Surgery
Editorial Boards
Eye

Orbit

Clinical Ophthalmology

European Journal of Ophthalmology
Professional Experience
Assistant Professor in Ophthalmology, Medical School, Leeds University, UK 2012 –

Consultant Ophthalmic Surgeon "St. James University Hospital", Leeds, UK 2012 –

Honorary Consultant "Mitera Hosptal" 2012 –

Fellow in Ophthalmology in UK 2009-2011
Education Experience
I am an Honorary Senior Lecturer in Leeds University and I am responsible for training 3rd and 5th year medical students in Ophthalmology

I am a Clinical Tutor for trainees rotating at the Ophthalmology Department in Oculoplastics, Lacrimal & Orbital Surgery, which is part of the obligatory training in UK

I train every year two senior post-CCT Fellows at St. James University Hospital, Leeds, UK
Clinical and Research Interest
Clinical Interest:
Eyelid, Lacrimal and Orbital diseases and surgical management of them

Ocular Oncology

Pediatric Oculoplastics, Lacrimal and Orbital Surgery

Cosmetic Eyelid Surger
Research Interest:
Since 2017 I am the principal investigator for a revolutionary scientific study in order to produce new, cosmetically improved, artificial eyes in the United Kingdom with the assistance of Medical Photography departments. The study is funded by NHS and the Leeds University.
Recent Publications
I have more than 40 publications in peer-reviewed scientific journals.
How accurate is the clinical and radiological evaluation of orbital lesions in comparison to surgical orbital biopsy? Koukkoulli A, Pilling JD, Patatas K, El-Hindy N, Chang B, Kalantzis G. Eye (Lond) 2018

Primary orbital melanoma: a case series and literature review. Figueira E, Rajak S, McKelvie P, Kalantzis G, Ismail A, Gonzales M, James C, McNab A, Selva D. Orbit 2018

Sclerotherapy for orbital lymphangioma- Case series and literature review. Patel KC, Kalantzis G, El-Hindy N, Chang BY. In Vivo 2017

Safety and efficacy of phacoemulsification and intraocular lens implantation through a small pupil using minimal iris manipulation. Papaconstantinou D, Kalantzis G, Brouzas D, Koutsandrea C, Diagourtas A, Georgalas I. Clin Interv Aging 2016

External dacryocystorhinostomy in consultants and fellows – a comparison of the causes of failure. Sullivan L, Fearnley T, Al-Maskari A, El-Hindy N, Kalantzis G, Chang BY. Hippokratia 2015

Punctal function in lacrimal drainage: the "pipette sign" and functional ectropion. Beigi B, Gupta D, Luo YH, Saldana M, Georgalas I, Kalantzis G, El-Hindy N. Clin Exp Optom 2015

Non surgical treatment of congenital ichthyosis cicatricial ectropion and eyelid retraction using Restylane hyaluronic acid. Litwin AS, Kalantzis G, Drimtzias E, Hamada S, Chang B, Malhotra R. Br J Dermatol 2015

Difficult indirect carotid-cavernous fistulas: alternative techniques to gaining access for treatment. El-Hindy N, Kalantzis G, Patankar T, Georgalas I, Jyothi S, Goddard T, Chang B. Clin Interv Aging 2014

Post-cataract surgery diplopia: aetiology, management and prevention. Kalantzis G, Papaconstantinou D, Karagiannis D, Koutsandrea C, Stavropoulou D, Georgalas I. Clin Exp Optom 2014

Periocular implantation cysts: a late complication of ophthalmic surgery. Kalantzis GK, Verity DH, Rose GE. Eye (Lond) 2014