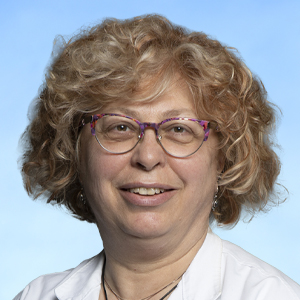 Grimpampi Despoina
Hematologist
Education & Academic Qualifications
Residency graduation in Hematology (Degree:Very Good) 8/2000
Hematology Residency, 1st Propaedeutic Department of Internal Medicine, LAIKON General Hospital 1996- 2000
Residency in Internal Medicine at Spiliopouleio Hospital " St. Helen" 1993- 1995
Compulsory rural practice at Trikomo, Grevena 1992- 1993
National and Kapodistrian University of Athens, School of Medicine (Graduation Degree: Very Good) 1985- 1991
Board Member
Member of the Hellenic Society of Hematology (HSH)

Member of the European Hematological Association (EHA)

Member of the European Society of Clinical Cell Analysis (ESCCA)
Professional Experience
Attending hematologist at the Hematological clinic of Henry Dynant Hospital 6/2008- 10/2018

Attending hematologist at the Blood Bank of Henry Dynant Hospital 1/2001-6/2008

Participation in the clinical activities and in the Research Laboratory of Lymphoproliferative Disorders under the supervision and in collaboration with the Professor of Hematology Dr. G. Pangalis 10/1991-1/2001
Clinical and Research Interest
Clinical Interest: Pregnancy Hematology- Hemostasis and Coagulation Disorders- Lymphoproliferative and Myeloproliferative Disorders- Myelodysplastic syndromes- Cytopenias
Research Interest:  Diagnosis and treatment of lymphoproliferative disorders
Recent Publications
VEDOTIN: THE GREEK EXPERIENCE
ΕΗΑ Learning Center Jun 12, 2015; 99704
Tsirigotis, T. Vassilakopoulos, Z. Bousiou, I. Mpatsis, K. Gkirkas, I. Sakellari, S. Papageorgiou, P. Roussou, G. Pangalis, Z. Galani, M. Moscogianni, P. Repoussis, E. Megalakaki, E. Michalis, N. Anagnostopoulos, C. Calpadaki, H. Papadaki, D. Margaritis, E. Chatzimichali,
Briassoulis, A. Spyridonidis, D. Grentzelias, K. Anargyrou, K. Tsionos, A. Mpanti, E. Poulakidas, C. Palaska, D. Gribabi, J. Apostolidis, V. Pappa, N. Harhalakis, P. Panagiotidis, K. Konstantopoulos, A. Anagnostopoulos, M. Angelopoulou.
2)KIKUTSHI'S LYMPHADENOPATHY: A RELATIVELY RARE BUT IMPORTANT CAUSE OF LYMPHADENOPATHY IN GREECE, POTENTIALLY ASSOCIATED WITH THE ANTIPHOSPHOLIPID SYNDROME.
Rheumatol. Int. 2010 May;30(7): 925- 32. Cited by 14
Vassilakopoulos TP, Pangalis GA, Siakantaris MP, Levidou G, Yiakoumis X, Floudas C, Gribabis DA.
3)SERUM SYNDECAN- 1, BASIC FIBROBLAST GROWTH FACTOR AND OSTEOPROTEGERIN IN MYELOMA PATIENTS AT DIAGNOSIS AND DURING THE COURSE OF THE DISEASE
Eur. J Ηaematol. 2004 Apr; 72(4):252- 8. Cited by 41
Kyrtsonis MC, Vassilakopoulos TP, Siakantaris MP, Kokoris SA, Gribabis DA, Dimopoulou MN, Angelopoulou MK, Pangalis GA.
4) A MORPHOMETRIC STUDY OF BONE MARROW ANGIOGENESIS IN HAIRY CELL LEUKEMIA WITH CLINICOPATHOLOGICAL CORRELATIONS
Br. J Haematol. 2003 Sep; 122(6): 900- 10. Cited by 14
Korkolopoulou P, Gribabis DA, Kavantzas N, Angelopoulou MK, Siakantaris MP, Patsouris E, Androulaki A, Thymara I, Kokoris SA, Kyrtsonis MC, Kittas C, Pangalis GA.
5) WALDENSTROM'S MACROGLOBULINEMIA: CLINICAL COURSE AND PROGNOSTIC FACTORS IN 60 PATIENTS.
EXPERIENCE FROM A SINGLE HEMATOLOGY UNIT.
Ann Hematol 2001 Dec;80(12): 722- 7. Εpub.2001 Oct 30. Erratum in: Ann Hematol 2002 Feb;81(2); 124. Cited by 70
Kyrtsonis MC,Vassilakopoulos TP, Angelopoulou MK, Siakantaris ΜP, Kontopidou FN, Dimopoulou MN, Boussiotis V, Gribabis DA, Konstantopoulos K, Vaiopoulos GA, Fessas P, Kittas C, Pangalis GA.
6)INFLUENZA VIRUS VACCINE IN B- CELL CHRONIC LYMPHOCYTIC LEUKEMIA PATIENTS.
Acta Hematol. 1994;91(3):115- 8. Cited by 35
Gribabis DA,Panayiotidis P, Boussiotis V, Hannoun C, Pangalis GA.