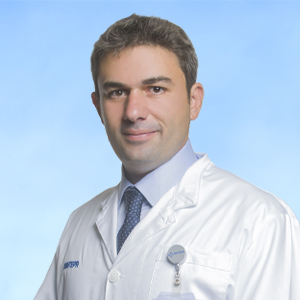 Russo Evangelos
Gastroenterologist
Education & Academic Qualifications
2003 MBBS University College London Medical School
2007 Membership of the Royal College of Physicians MRCP (UK )
2015 MRCP (UK) in Gastroenterology and Hepatology
2017 Certificate of Completion of Specialist Training in Gastroenterology and Hepatology
2017 Certificate of Completion of Specialist training in General Internal Medicine
PhD/ Thesis
2015 – Imperial College London: "The application of novel imaging modalities in the monitoring of inflammatory activity in Crohn's disease"
Board Member
General Medical Council – UK

Royal College of Physicians – UK

British Society of Gastroenterology

United European Gastroenterology

Iatrikos Syllogos Athinas
Professional Experience
01/2017- present: Consultant Gastroenterologist Imperial College Healthcare NHS Trust Honorary Lecturer– Imperial College London

08/2008-12/2016: Specialist Registrar in Gastroenterology/ Internal Medicine North West Thames Rotation, London UK

10/2010 – 09/2014: Research Fellowship – PhD Imperial College London

08/2003 – 07/2008: Specialist Training in General Internal Medicine Hertfordshire/ Kent/ London Rotation
Education Experience
June 2020 Digital Gastro Trainee Network: Management of GI Bleeds, Online Teaching

January2020 Imperial GI Bleed Course, Hammersmith Hospital, London UK

November 2019 LOGIC IBD Nurse Education and Recognition. "A Clinical update on Microscopic Colitis" London, UK
October 2019 An Update on Microscopic Colitis, Tillott's Satellite Symposium, Barcelona, SP

November 2018 Advances in Microscopic Colitis – An Educational Symposium, London UK

April 2017 The management of fistulising Crohn's Disease. The Allergan 6th Scientific Meeting in Digestive Diseases, London, UK
Clinical and Research Interest
Clinical Interest:
Diagnostic and Therapeutic Endoscopy

Polypectomy

Chronic diarrhoea and change in bowel habit

Inflammatory Bowel Disease including Microscopic Colitis

Malignancies of the GI tract
Research Interest: 
Inflammatory Bowel Disease

Microscopic Colitis – Member of the European Microscopic Colitis Group

New developments of therapeutic endoscopy
Awards
The Erickson Liston Prize in Surgery, UCL Medical School

Wellcome Trust/ GSK Translational Medicine Training Fellowship
Recent Publications
BP Verhaeg, A Munch, D Guagnozzi, S Wildt, W Cebula, A Diac, F Fernandez-Benares, M Al-Khalaf, Pedersen N, Kupcinskas J, Bohr J, A Lucendo, Lyutakov I, GE Tontini, F Pigo, E Russo, H Hjwortswang , S Miehlke , L Munck. Course of disease in patients with microscopic colitis – a European prospective incident cohort study. Journal of Crohns and Colitis J Crohns Colitis 2021 Jul 5;15(7):1174-1183

P Boger, I Rahman, M Hu, L Ayaru, P Bhandari, F Chedgy, S Green, M Hayat, A Hopper, D Andrew, Ishaq, J Martin, I McCallum, P Phull, S Pugh, E Russo, N Suzuki, Noriko, S Thomas-Gibson, Z Zeino, P Patel. Endoscopic full thickness resection in the colo-rectum: outcomes from the UK Registry Eur J Gastroenterol Hepatol 2021 Jun 1;33(6):852-858

EA Russo, SA Khan, R Janisch, RN Gunn, EA Rabiner, SA Taylor, PM Matthews, TR Orchard. The role of 18F-fluorodeoxyglucose positron emission tomography in the monitoring of inflammatory activity in Crohn's disease. Inflamm Bowel Dis 2016 Nov;22(11):2619-2629

A Plumb, A Menys, EA Russo, D Prezzi, G Bhatnagar, R Vega, S Halligan, TR Orchard, SA Taylor. Magnetic resonance imaging-quantified small bowel motility is a sensitive marker of response to medical therapy in Crohn's disease. Aliment Pharmacol Ther. 2015 Aug;42(3):343-55

P Kennedy, EA Russo, N Kumar, N Powell, P Vlavianos, A Thillainayagam, D Bansi, D Westaby. Effectiveness of prophylactic pancreatic stents in preventing post-ERCP pancreatitis: A two- year, retrospective controlled study in a tertiary centre in London. Surg Endosc. 2010 Aug;24(8):1923-8

EA Russo, M Iacucci, JO Lindsay, S Campbell, JP Hamlin, TR Orchard, N Arebi, AL Hart, SM Gabe, MR Jacyna, J Nightingale, M O'Connor, AW Harris, C O'Morain, S Ghosh. Survey regarding the use of adalimumab as maintenance therapy in Crohn's disease in England and Ireland. Eur J Gastroenterol Hepatol. 2010 Mar;22(3):334-9.

EA Russo, AW Harris, S Campbell, J Lindsay, A Hart, N Arebi, A Milestone, HHTsai, J Walters, M Carpani, D Westaby, A Thillainayagam, D Bansi, S Ghosh. Experience of maintenance infliximab therapy for refractory ulcerative colitis in England. Aliment Pharmacol Ther. 2009 Feb 1;29(3):308-14.