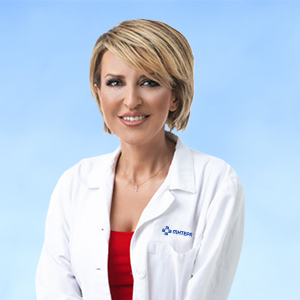 Pefkianaki Maria
Opthalmologist
Specialist in Ocular Oncology Adult and Children
Education & Academic Qualifications
Master Degree, Harvard T.H. Chan School of Public Health, University of Harvard, S.A.
Doctoral Thesis, Medical School, University of Thessaly, Greece.
Master Degree, Medical School, University of Thessaly, Greece.
Ophthalmology Specialty Title, Greece.
Doctor of Medicine Degree, University of Pavia Medical School, Italy.
Work Experience
Scientific Director Ocular Oncology Service, Private Practice, Athens, Greece.

Retina Consultant, Kings College Hospital, London, U.K.

Retina Consultant, Chelsea Westminster Hospital, London, U.K.
Ocular Oncology Honorary Fellow, USC Roski Eye Institute and CHLA Hospital, L.A., U.S.A.

Research Fellow, Massachusetts Eye and Ear Hospital, Boston, U.S.A.

Ocular Oncology Fellow, Wills Eye Hospital, Philadelphia, U.S.A.

Ocular Oncology and Uveitis Fellow, Royal Hallamshire Hospital-Sheffield Teaching Hospital, Sheffield, U.K.

Medical Retina Service Fellow (Retina-Uveitis-Inherited Retinal Degenerative Diseases-Ocular Oncology clinics), Moorfields Eye Hospital, London, U.K.

Resident, University Hospital Larisa, Department of Ophthalmology, Greece.
Fellowship in Societies
Hellenic Ophthalmological Society.

American Academy of Ophthalmology.

Association for Research in Vision and Ophthalmology.

European Society of Retina Specialists.

Fellow of the European Board of Ophthalmology.
Royal College of Ophthalmologists.

Wills' Ocular Oncology Fellows Association.
International Society of Ocular Oncology.

Ophthalmic Oncology Group.

Eye Cancer Network.
Clinical and Research Interest
Clinical Interest:
Intraocular Tumours.

Choroidal Melanoma.

Choroidal Nevus.

Choroidal Metastasis.

Retinoblastoma.

Ocular Metastases.

Ocular Surface Tumours.

Ocular Surface Squamous Neoplasia.

Conjunctival Melanoma.

Conjunctival Nevus.

Primary Acquired Melanosis.

Conjunctival Lymphoma

Iris Melanoma.

Iris Nevus.

Basal Cell Carcinoma

Eyelid Melanoma.

Ocular Lymphoma.

Orbital Lymphoma.

Orbital Dermoid Cyst.

Benign Ocular Tumour.

Suspected Ocular Tumours in both Children and Adults.
Research interest
Sub-investigator in more than 15 clinical studies.

Research into Melanoma of the Eye and Retinoblastoma. 

Phase I, II and III Clinical Trials.

Personalized and Targeted Therapy.

Novel Therapies.
Honors and Awards
Wills Eye Hospital Research Innovation Grant, U.S.A., 2015

America's Top 100 Magazine, ' Top 100 New Doctors' list 2018.
Other Scientific Activities
Presentations in Greek and International medical conferences.

Participated in Courses, and Round Tables.
Recent Publications
Intravitreal Melphalan for Retinoblastoma: the Impact of Toxicity on Recurrence and Ultimate Globe Salvage. Jesse Berry, Mary Elizabeth Kim, Maria Pefkianaki, Mark W Reid, Rachana Shah, Rima Jubran.Jonathan Kim.

Correlation of Immunological Markers with Disease and Clinical Outcome Measures in Patients with Autoimmune Retinopathy. Stanwyck LK; Chan W; Sood A; Susarla G; Romano J; Pefkianaki M; Jayasundera KT; Heckenlively JR; Lundy SK; Sobrin L.

Clinical Features and Multi-Modality Imaging of Isolated Retinal Astrocytic Hamartoma. Stacey AW; Pefkianaki M; Ilginis T; Michaelides M; Hykin P; Webster A; Moore AT; Sagoo MS.

Cytogenetic results of choroidal nevus growth into melanoma in 55 consecutive cases. Shields CL; Pefkianaki M; Mashayekhi A; Shields JA; Ganguly A.