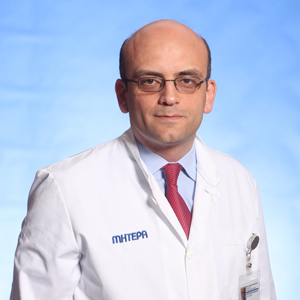 Papaspyrou Konstantinos
Ent specialist
Education & Academic Qualifications
June 1997:

Graduation from Lyceum (Ziridis Schools, Athens, Greece)

September 1997

: Admission to the Medical School of the National and Kapodistrian University of Athens

 

after National Examinations

February 2004

: Graduation from the Medical School of the National and Kapodistrian University of Athens with grade « Very good »

05.07.2004-31.07.2012:

Specialisation in Otorhinolaryngology, elaboration of a PhD thesis as well as salaried employment as an Otorhinolaryngology Specialist (Facharzt) at the Department of Otorhinolaryngology, Head- and Neck Surgery (E.N.T.) of the University of Mainz Medical School´s Hospital, Germany (Director: Univ.-Prof. Dr. med. Dr. h. c. mult. Wolf J. Mann)
Courses-Workshops-Hands on Experience
Stimmrehabilitation nach Laryngektomie mittels stimmprothetischer Versorgung ("Voice rehabilitation after laryngectomy with voice prostheses"), University of Mainz, E.N.T. Clinic, Mainz, Germany, 16.10.2004.

Mainzer Ultraschallkurse fűr HNO-Ärzte und Kieferchirurgen 2005, (Ultrasonography Seminars for Otorhinolaryngologists and Oral Surgeons), University of Mainz, E.N.T. Clinic, Mainz, Germany (Continuing Medical Education, Credits 63)

International Workshop on Micro-Endoscopic Sinus Surgery, University of Mainz, E.N.T. Clinic, Mainz, Germany, 02-04.06.2005 (Continuing Medical Education, Credits 23)

International Workshop on Micro-Endoscopic Sinus Surgery, University of Mainz, E.N.T. Clinic, Mainz, Germany, 02- 04.03.2006 (Continuing Medical Education, Credits 23)

6th Wullstein Symposium, (Symposium on Ear Surgery and Cochlear Implantation), Würzburg, Germany, 7-12.12.2006

Mainzer Ultraschallkurse fűr HNO-Ärzte und Kieferchirurgen 2007, (Ultrasonography Seminars for Otorhinolaryngologists and Oral Surgeons), University of Mainz, E.N.T. Clinic, Mainz, Germany (Continuing Medical Education, Credits 63)

International Workshop on Micro-Endoscopic Sinus Surgery, University of Mainz, E.N.T. Clinic, Mainz, Germany, 01-03.03.2007 (Continuing Medical Education, Credits 23)

11th Head and Neck Cadaver Dissection Workshop, E.N.T. Clinic, Evangelismos Hospital, Athens, Greece  (Temporal Bone Dissection, Surgery of the nasal septum, Functional Endoscopic Sinus Surgery (F.E.S.S.), Surgery of the Salivary Glands, Larynx Surgery, Rhinoplasty, Otoplasty),  10-16.03.2007

Mainzer Ultraschallkurse fűr HNO-Ärzte und Kieferchirurgen 2008, (Ultrasonography Seminars for Otorhinolaryngologists and Oral Surgeons), University of Mainz, E.N.T. Clinic, Mainz, Germany (Continuing Medical Education, Credits 63)

International Workshop on Micro-Endoscopic Sinus Surgery, University of Mainz, E.N.T. Clinic, Mainz, Germany, 21-23.02.2008 (Continuing Medical Education, Credits 23)

12th Head and Neck Cadaver Dissection Workshop, E.N.T. Clinic, Evangelismos Hospital, Athens, Greece  (Temporal Bone Dissection, Surgery of the nasal septum, Functional Endoscopic Sinus Surgery (F.E.S.S.), Surgery of the Salivary Glands, Larynx Surgery, Rhinoplasty, Otoplasty), 15-21.03.2008

9th International Training Course on Endoscopic and Microscopic Sinus Surgery, Marburg, Germany, 31.08-02.09.2008

Rhino Days 2009, International Symposium on Nasal Obstruction and Balloon Sinuplasty, Marburg, Germany, 15-17.01.2009

14th Head and Neck Cadaver Dissection Workshop, E.N.T. Clinic, Evangelismos Hospital, Athens, Greece  (Temporal Bone Dissection, Surgery of the nasal septum, Functional Endoscopic Sinus Surgery (F.E.S.S.), Surgery of the Salivary Glands, Larynx Surgery, Rhinoplasty, Otoplasty), 07-12.03.2009

10th International Training Course on Endoscopic and Microscopic Sinus Surgery, Marburg, Germany, 30.08-01.09.2009

Mainzer Ultraschallkurse fűr HNO-Ärzte und Kieferchirurgen 2010, (Ultrasonography Seminars for Otorhinolaryngologists and Oral Surgeons), University of Mainz, E.N.T. Clinic, Mainz, Germany (Continuing Medical Education, Credits 63)

15th Head and Neck Cadaver Dissection Workshop, E.N.T. Clinic, Evangelismos Hospital, Athens, Greece  (Temporal Bone Dissection, Surgery of the nasal septum, Functional Endoscopic Sinus Surgery (F.E.S.S.), Surgery of the Salivary Glands, Larynx Surgery, Rhinoplasty, Otoplasty), 19-21.03.2010

Mainzer Ultraschallkurse fűr HNO-Ärzte und Kieferchirurgen 2011, (Ultrasonography Seminars for Otorhinolaryngologists and Oral Surgeons), University of Mainz, E.N.T. Clinic, Mainz, Germany (Continuing Medical Education, Credits 63)

Kurs: Tracheoskopie und Bronchoskopie bei Kindern (Course: Tracheoscopy and Bronchoscopy in children), 11th Annual Meeting of the German Academy of Oto-Rhino-Laryngology, Head and Neck Surgery, 19.-20.05.2012, Mainz, Germany, 19.05.2012

Kurs: Stridor und Atemwegsdiagnostik bei Säuglingen und Kindern (Course: Stridor and Airway Diagnostics in infants and children), 11th Annual Meeting of the German Academy of Oto-Rhino-Laryngology, Head and Neck Surgery, 19.- 20.05.2012, Mainz, Germany, 20.05.2012
PhD/ Thesis
Immunohistochemical analysis of Fascin expression in squamous cell carcinomas of the Head and Neck (Immunohistochemische Analyse der Fascinexpression in Platenepithelkarzinomen des Kopf-Hals-Bereiches), from the Department of Otorhinolaryngology, Head- and Neck Surgery (E.N.T.) of the University of Mainz Medical School´s Hospital, Germany (Director: Univ.-Prof. Dr. med. Dr. h. c. mult. Wolf J. Mann) (07/2009)
Editorial Boards
AD-HOC REVIEWER for peer-reviewed international journals
Skull Base Reports

Head Neck

European Archives of Oto-Rhino-Laryngology and Head & Neck

Hormones Journal

World Journal of Surgical Oncology

Webmed Central

Endocrine-Related Cancer

Clinical Chemistry and Laboratory Medicine (CCLM)
Professional Experience
05.07.2004-31.07.2012: Salaried employment as a Resident and consequently as an Otorhinolaryngology Specialist (Facharzt) at the Department of Otorhinolaryngology, Head- and Neck Surgery (E.N.T.) of the University of Mainz Medical School´s Hospital, Germany (Director: Univ.-Prof. Dr. med. Dr. h. c. mult. Wolf J. Mann)

March 2013- today: Private Practice

March 2013- today: Otorhinolaryngologist, Hygeia Hospital

August 2013- today: Otorhinolaryngologist, Mitera Hospital
Education Experience
Education of students of the University of Mainz Medical School in Otorhinolaryngology as well as participation as an examiner in the final oral examinations in this lesson

Participation at the internal Grand Rounds of the Department of Otorhinolaryngology, Head- and Neck Surgery (E.N.T.) of the University of Mainz Medical School´s Hospital with presentations

Participation as a Trainer at the Mainzer Ultraschallkurse für HNO-Ärzte und Kieferchirurgen 2012/13 Grundkurs der Kopf- Halssonographie (Ultrasonography Seminars for Otorhinolaryngologists and Oral Surgeons-Basic Level Course), 29-30.06.2012, University of Mainz, E.N.T. Clinic, Mainz, Germany.
Clinical and Research Interest
Clinical Interest

Neurootology 
(Diagnosis & Therapy of Hearing loss, Vertigo/Dizziness, Tinnitus, including intratympanic dexamethasone therapy under local anesthesia)
Pediatric Otorhinolaryngology
Surgical Spectrum Highlights
Microsurgery of the Larynx with the CO2 Laser for benign & malignant lesions (Phonosurgery, Surgery of cancer of larynx & hypopharynx)
Posterior cordotomy with the CO2 Laser for vocal cord paralysis
Vocal Cord Augmentation–Injection Laryngoplasty
Functional Endoscopic Sinus Surgery (FESS)
Surgical Treatment of Snoring – Sleep Apnea [including LAUP (Laser-assisted uvulopalatoplasty) & UPPP (Uvulopalatopharyngoplasty)]
Endoscopic surgical correction of nasal septum deviation
Endoscopic submucosal photocoagulation of the hypertrophic inferior nasal turbinates with the Diode Laser under local anesthesia
Tonsillectomy – Endoscopic Adenoidectomy in adults and children

Myringotomy- Grommet (ventilation-myringostomy tube) insertion under local anesthesia
Most of the above-mentioned procedures take place as
One Day Surgery and with

Minimal Invasive Surgery
Research Interest: 
Head and Neck Paragangliomas (glomus tumors) (9 relevant publications in international peer-reviewed journals)

Scientific presentations in international medical congresses (18)

Scientific presentations in Greek medical congresses (12)
Recent Publications
1.   Fliedner SM, Shankavaram U, Marzouca G, Elkahloun A, Jochmanova I, Daerr R, Linehan WM, Timmers H, Tischler AS, Papaspyrou K, Brieger J, de Krijger R, Breza J, Eisenhofer G, Zhuang Z, Lehnert H, Pacak K.
Hypoxia-Inducible Factor 2α Mutation-Related Paragangliomas Classify as Discrete Pseudohypoxic Subcluster.
Neoplasia. 2016 Sep;18(9):567-76.
2.  Papaspyrou K, Brochhausen C, Schmidtmann I, Fruth K, Gouveris H, Kirckpatrick J, Mann   W, Brieger J.
Fascin upregulation in primary head and neck squamous cell carcinoma is associated to lymphatic metastasis.
Oncol Lett. 2014 Jun;7(6):2041-2046.
3.   Bickmann JK, Sollfrank S, Schad A, Musholt TJ, Springer E, Miederer M, Bartsch O, Papaspyrou K, Koutsimpelas D, Mann WJ, Weber MM, Lackner KJ, Rossmann H, Fottner C.
Phenotypic variability and risk of malignancy in SDHC-linked paragangliomas: lessons from three unrelated cases with an identical germline mutation (p.Arg133*).
J Clin Endocrinol Metab. 2014 Mar;99(3):E489-96.
4. Papathomas TG, Gaal J, Corssmit EP, Oudijk L, Korpershoek E, Heimdal K, Bayley JP, Morreau H, van Dooren M, Papaspyrou K, Schreiner T, Hansen T, Andresen PA, Restuccia DF, van Kessel I, van Leenders GJ, Kros JM, Looijenga LH, Hofland LJ, Mann W, van Nederveen FH, Mete O, Asa SL, de Krijger RR, Dinjens WN.
Non-pheochromocytoma (PCC)/paraganglioma (PGL) tumors in patients with succinate dehydrogenase-related PCC-PGL syndromes: a clinicopathological and molecular analysis.
Eur J Endocrinol. 2013 Nov 22;170(1):1-12.
5.  Miederer M, Fottner C, Rossmann H, Helisch A, Papaspyrou K, Bartsch O, Mann WJ, Musholt TJ, Weber MM, Lackner KJ, Schreckenberger M.
High incidence of extraadrenal paraganglioma in families with SDHx syndromes detected by functional imaging with [18F]fluorodihydroxyphenylalanine PET.
Eur J Nucl Med Mol Imaging. 2013 Jun;40(6):889-96.
6.   Papaspyrou K, Welkoborsky HJ, Gouveris H, Mann WJ.  
Malignant and benign sinonasal paragangliomas.
Laryngoscope. 2013 Aug;123(8):1830-6.
7.   Papaspyrou K, von Creytz H, Kolonko K, Mewes T, Mann W, Scharrer I.
[Bleeding and coagulation disorders in tonsillectomies].
HNO. 2012 Jun;60(6):511-7. [Article in German]
8. Papaspyrou K, Mewes T, Rossmann H, Fottner C, Schneider-Raetzke B, Bartsch O, Schreckenberger M, Lackner KJ, Amedee RG, Mann WJ.
Head and neck paragangliomas: Report of 175 patients (1989-2010).
Head Neck. 2012 May;34(5):632-7.
9. Papaspyrou K, Mewes T, Tóth M, Schmidtmann I, Amedee RG, Mann   WJ.
Hearing results after hypotympanotomy for glomus tympanicum tumors.
Otol Neurotol. 2011 Feb;32(2):291-6.
10.   Papaspyrou K, Mann WJ, Amedee RG.
Management of head and neck paragangliomas: review of 120 patients.
Head Neck. 2009 Mar;31(3):381-7.