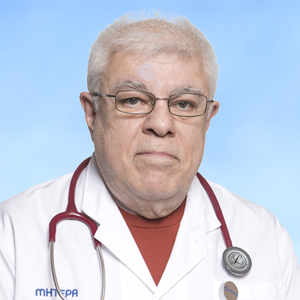 Konstantopoulos Konstantinos
Hematologist
Director, Hematology Department
Education & Academic Qualifications
Academics
Professor of Medicine and Hematology, Athens University Medical School, Head of the University Department of Hematology (2013-2021) at Laikon Hospital of Athens
Education
Athens University Medical School (1973-1978)
Royal Postgraduate Medical School, London University, Hammersmith Hospital, Department of Hematology and Department of Immunology (1989-1991), London UK
PhD/ Thesis Athens
University Medical School,
Diploma in Clinical Pathology (modules Hematology-Immunology), London University London UK (covered by an overseas scholarship of the Greek National Scholarships Foundation)
Board Member
Greek National Boards in Internal Medicine (1985)
Greek National Boards in Hematology (1991)
Editorial Boards
AD-HOC REVIEWER for peer-reviewed international journals
Case Reports in Hematology, HINDAWI International Publications
Chinese Journal of Medicine
Benham Series Journal of Autoinflammation (Special Issue Editor)
French Journal of Dermatology
Professional Experience
Professor of Medicine and Hematology, Athens University Medical School
Head, Department of Clinical Hematology, Athens University Medical School, Laikon Hospital of Athens
First Department of Medicine, Athens University Medical School, Laikon Hospital of Athens
Department of Hematology, Molecular Diagnostic Hematology Unit, Hammersmith Hospital, London University
Department of Hematology, Division of Medicine, Karolinska Hospital and Institute, Stockholm, Sweden
National Thalassemia Center National Health System/ESY (Thalassemia Prevention, Management and Prenatal Diagnosis Units), Laikon Hospital
Education Experience
Undergraduate and Postgraduate Programme, Medical School, Athens University
PhD and MSci Lectures and Theses supervision
Professional Training to medical graduates and other health professions (invited by Medical Societies)
Clinical and Research Interest
Clinical Interest: Bening and malignant hemopathies, Myelodysplasia,Molecular Diagnostic Hematology, Famililal Mediterranean Fever (FMF)
 
Research Interest: HLA antigens and disease, hemoglobinopathies, MDS transformation studies, amyloidoses, auto-inflammation studies
Awards
Medical Society of Athens , Pan-Hellenic Medical Congress, Research awards, poster presentations.
Books
Co-Authorship in academic textbooks for undergraduate and post-graduate studies published by the Section of Internal Medicine Chairs, School of Medicine, Athens University
Editor, Greek Edition, Bethesda Textbook of Hematology, Parisianos Medical Publications.
Editor, Greek Edition, Fast Facts: Bleeding Disorders (Green and Ludlam) 2nd Edition, PASCHALIDIS/HEALTH PRESS
Recent Publications
1: Vassilakopoulos TP, Chatzidimitriou C, Asimakopoulos JV, Arapaki M, Tzoras E,
Angelopoulou MK, Konstantopoulos K. Immunotherapy in Hodgkin Lymphoma: Present
Status and Future Strategies. Cancers (Basel). 2019 Jul 29;11(8):1071
2: Armenis I, Kalotychou V, Tzanetea R, Kollia P, Kontogeorgiou Z,
Anastasopoulou D, Mantzourani M, Samarkos M, Pantos K, Konstantopoulos K, Rombos
Data on eNOS T786 and G894T polymorphisms and peripheral blood eNOS mRNA
levels in Sickle Cell Disease. Data Brief. 2016 Nov 28;10:192-197
3: Vassilakopoulos TP, Asimakopoulos JV, Konstantopoulos K, Angelopoulou MK.
Optimizing outcomes in relapsed/refractory Hodgkin lymphoma: a review of current
and forthcoming therapeutic strategies. Ther Adv Hematol. 2020 Feb
16;11:2040620720902911.
4: Asimakopoulos JV, Angelopoulou MK, Arapaki MP, Kanellopoulos A, Dimou M,
Giakoumis X, Konstantinou E, Belia M, Chatzidimitriou C, Sachanas S, Iliakis T,
Kyrtsonis MC, Siakantaris MP, Viniou NA, Variamis E, Kontopidou FN, Pangalis GA,
Panayiotidis P, Konstantopoulos K, Vassilakopoulos TP. Validation of the
simplified International Prognostic Score3 in a Hellenic cohort of patients with
advanced-stage Hodgkin-lymphoma. Br J Haematol. 2020 Sep;190(6):e335-e339.
5: Giaginis C, Lakiotaki E, Korkolopoulou P, Konstantopoulos K, Patsouris E,
Theocharis S. Endocannabinoid System: A Promising Therapeutic Target for the
Treatment of Haematological Malignancies? Curr Med Chem. 2016;23(22):2350-62.
6: Tassiopoulos S, Konstantopoulos K, Rombos Y, Aessopos A. Hemothorax due to
extramedullary erythropoietic masses. Ann Thorac Surg. 2004 Jan;77(1):323-4.
7: Konstantopoulos K. Austerity and health in Greece. Lancet. 2014 May
3;383(9928):1544.
8: Konstantopoulos K. Leucopenia and familial Mediterranean Fever. Pediatr
Hematol Oncol. 2014 Mar;31(2):129-30.
9: Keramaris KE, Konstantopoulos K, Margaritis LH, Velentzas AD, Papassideri IS,
Stravopodis DJ. Exploitation of Drosophila Choriogenesis Process as a Model
Cellular System for Assessment of Compound Toxicity: the Phloroglucinol
Paradigm. Sci Rep. 2020 Jan 14;10(1):242
10: Karamanou M, Tekiner H, Papaioannou TG, Konstantopoulos K, Androutsos G.
Racial variation and cancer: a historical approach. J BUON. 2016 Nov-
Dec;21(6):1568-1570.