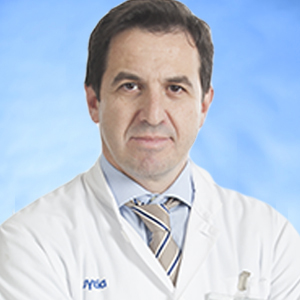 Azas Eleftherios
Internist
Assistant Director, 3rd Internal Medicine Department, Hygeia Hospital
Education & Academic Qualifications
2010: M.SC. in "bone metabolic diseases ". National Kapodistrian University of Athens.
2001: Greek Board Certification in Internal Medicine
1984-91: National Kapodistrian University of Athens, Medical School, Athens.Education
Doctoral thesis
Candidate – MD Thesis: " Glucose homeostasis in red blood cells "
Fellowship in Societies, Membership in Journal Editorial Committees
Hellenic Diabetes Association 

European Association Study of Diabetes

HELIOS (Hellenic Osteoporosis Foundation) 

Hellenic Society of Internal Medicine
Work Experience
2004- now: Consultant Internist – 3rd Department of Internal Medicine "Hygeia Hospital ", Athens

2001-2004: "Mitera " Maternity & Surgical Center, Athens. External Consultant – Gestational Diabetes Mellitus Outpatient Clinic

1996-01 Nimts Hospital, Athens. Resident trainee 1st Department of Internal Medicine. Unit covering all Internal Medicine aspects 

1992 – 1994:Hellenic Diabetes Center, Athens. Postgraduate researcher involved in clinical trials regarding glucose metabolism in blood cells. 
Education Experience:
2001 – 2004: 2nd Dpt of Internal Medicine : Research Institute and Diabetes Center. Athens University Medical School. Evaggelismos Hospital 

Participation in the operation of a regular external Diabetic Clinic 

PhD dissertation 

4th and 6th grade students of Athens Medical School : Instruction and teaching 

1996-01 Nimts Hospital , Athens. Active participation in the educational activities of the Department:  Medical students of the National University of Athens Students of Army School of Nurses
Clinical & Research Interest
Type 2 Diabetes Mellitus 

Gestational DM 

Osteoporosis 

Dyslipidemia