Assisted Reproduction Unit Receives ISO Certification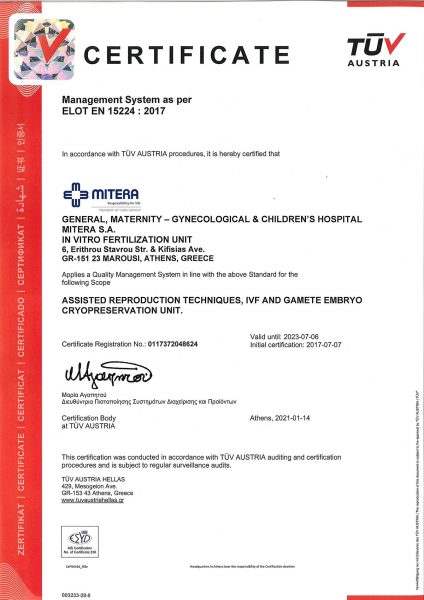 MITERA Hospital's Assisted Reproduction Unit (IVF) has received the ISO ΕΝ 15224:2017 certification for quality management systems from TUV Austria Hellas.
By implementing a certified Quality Management System, the MITERA Assisted Reproduction Unit ensures that:
It fully complies with the legal requirements, aiming at safeguarding interested couples throughout all the stages of the implemented procedures.
It handles all cases and interested parties with discretion and confidentiality.
It implements and follows Proper Laboratory Practices, as specified by international standards, ensuring that its lab is included among the most contemporary and safe.
It offers the best and safest conditions for performing medical procedures, guaranteed by the trained personnel as well as the fact that the Unit operates within the MITERA Hospital, which focuses on providing first-rate medical services.