ISO 9001:2015 Quality Management System Certification
Since 2012, MITERA has been receiving ISO 9001:2015 certifications for some of its more crucial services/departments. In April 2016, it further expanded its Quality Management System and was certified by TÜV AUSTRIA HELLAS for all the services it offers.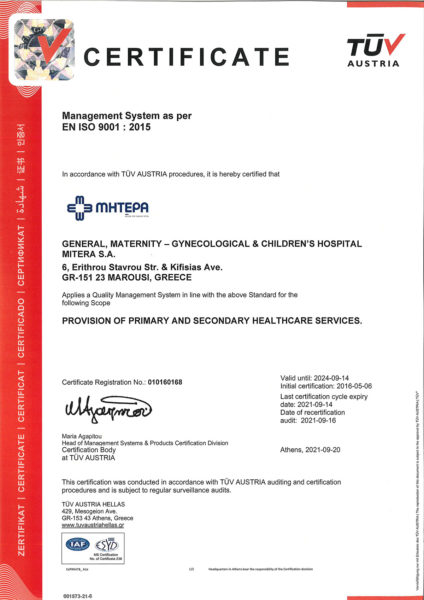 The certified Quality System covers the following areas:
Planning and recording procedures at all levels, covering a wide range of functions, including:
– Implementing modern principles and management models.
– Applying protocols and guidelines, as specified by internationally acclaimed organizations.
– Evaluating and training employees and associates, so as to ensure that the human resources are aware of and suitable for the duties and responsibilities of the position they hold.
– Maintaining and upgrading the equipment, and updating the hospital infrastructure, with the aim of ensuring a safe setting for providing our services.
Implementing the recorded procedures, while keeping relevant files.
Implementing a self-control system both for the daily operations and the efficiency of the system, through monitoring quality indicators.
Performing corrective/preventive actions with the aim of constant improvement.